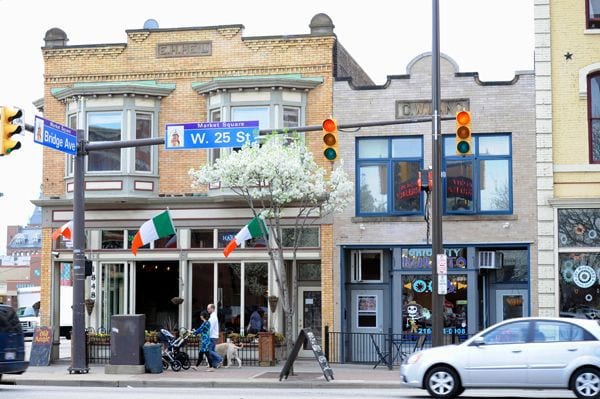 The idea of The Old Angle Tavern was conceived in 2001, after a fire, along with changing shopping habits, closed a neighborhood hardware store on West 25th Street, at Bridge Avenue, in Cleveland's Ohio City neighborhood. The vacant, burned out, Ohio City Hardware Building, needed a new purpose to save it from further destruction, and quite possibly, the wrecking ball. That idea was a grand, old school, neighborhood Irish tavern to help anchor/stabilize a prominent corner of the West 25th Street corridor, Ohio City's commercial district, later known as The Market District. A two and a half year, nearly million dollar renovation (both inside & out) took place, and on Saint Patrick's Day, 2004, The Old Angle Tavern opened its doors to rave reviews.
Cleveland Scene
An exceptionally handsome, subtly Irish pub and dining room, the Old Angle meshes the comfort of a neighborhood bar with the dim, sexy ambiance of a club.
Moon Travel Guide
If a contemporary Irish bar sounds tempting, pop into Old Angle, set in a renovated hardware store, this pub is not your typical shamrock shack.
Cleveland Plain Dealer
Named after a 19th-century Cleveland Irish neighborhood, the Angle is open-ended without being bland, with a crowd that's somewhere between hip and beer-swilling.
City Search
Locals kick back at this artfully aged pub near the West Side Market. In Short, since rising from the ashes of a 1910 hardware store, this Ohio City hangout with a tin ceiling and leather- upholstered walls has become the spot where young professionals and neighborhood characters gather for a bite and some blarney.
Cleveland Free Times
While the Angle's name pays homage to a local Irish settlement, circa 1860, owner Alex Gleason and his crew have wisely sidestepped most Irish-pub clichés and Disneyesque decor, opting instead for a dimly lit, well-appointed, and welcoming watering hole that might be the template for the contemporary Cleveland tavern.
Since day one, the concept, design, execution & heart of The Old Angle Tavern has centered on one thing, Cleveland! The place had to be historic, hardworking, welcoming, comfortable, courageous & proud! This is achieved by our four basic principles: Good Food, Good Fluid, Good Feel, and Good Face.
Good Food: We strive to deliver the best pub food in the land. You could say we were a gastro pub before the term was even invented.  Always locally sourced, when possible, always fresh, and always professionally prepared & served.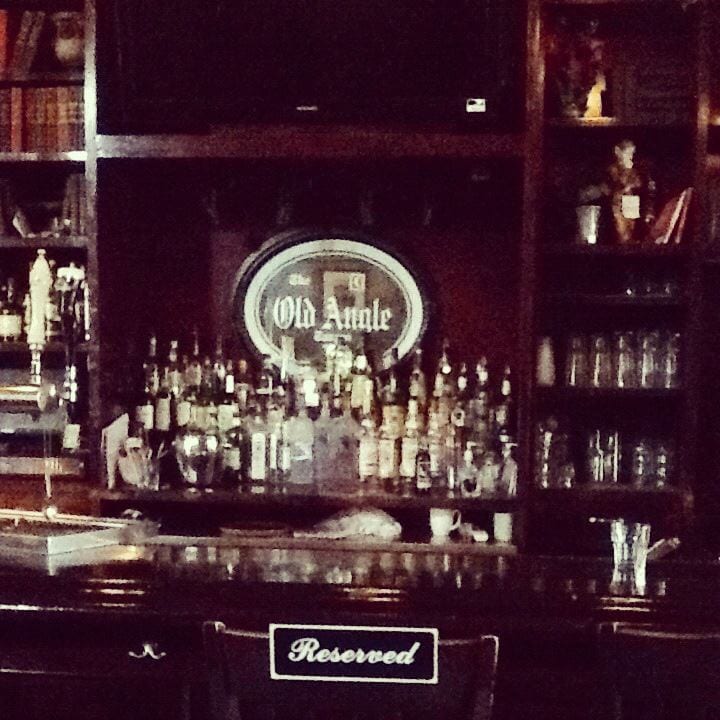 Cleveland Scene, Best of Cleveland: Best Pub Grub: The Old Angle Tavern – Dark, cozy, and handsomely accessorized, this Irish pub offers top-rate tavern fare. Well-prepared and generously apportioned…

Thrillist: The Angle's kitchen is among Cleveland's hidden bar gems, the most underrated kitchen in town

Cleveland Scene/Free Times: The Old Angle offers a new take on Irish food.
Good Fluid: A Premium stocked bar is always on hand with an extensive Irish Whiskey selection, top flight wines, and the best in local & national craft beers, as well as old time favorites
Cleveland Plain Dealer, Cleveland.com, This is Cleveland, WKYC, WEWS, WJW, WOIO, Cleveland Scene, Cleveland Free Times, Thrillist, etc: Best Bars for Saint Patrick's Day – The Old Angle Tavern

Thrillist: The Old Angle Tavern – A laid-back Ohio City Irish Pub, where whiskey is poured and pints overflow.

Draft Mag Review: The Old Angle Tavern – The mahogany bar surrounded by bookshelves is this European pub's centerpiece; it's also a quiet respite from the inebriated madness of West 25th on a Saturday night.

Thrillist: The Best Places to Drink in Cleveland Right Now, The Old Angle Tavern
Good Feel: A neighborhood bar that believes you're only as good as the people who call you home. People make a bar, we can only help define that by making every visit pleasurable, always comfortable, and welcoming to all.
The Plain Dealer: The Angle rolls out an old Irish pub vibe every day of the year. And, I must say, that's about as good as it gets.

COOL CLEVELAND: The Old Angle Tavern, which staked its spot on West 25th Street before it was the next hot entertainment district, is a classic Irish pub. It's kept the neighborhood hangout vibe amidst a street that has filled up with big drinking and dining spots, a hangout for those just wanting a night out with good friends or a place to go where they're not on display.

Cleveland Hot List: The atmosphere of The Old Angle Tavern brings together the neighborhood's rich cultural history with local artistry, a creative menu, and the cozy feeling of a neighborhood tavern.

Cleveland Free Times, Best of Cleveland Awards: Least Pretentious Bar: The Old Angle Tavern – The rollicking vibe is entirely real, free of pretense or puffery.

Cleveland Scene: The Old Angle is more Dublin than Dublin.
Good Face: The look of The Old Angle Tavern is the face of Cleveland. It's seen from the look of the tavern to its gracious, smiling staff, it's all Cleveland & proud of it!
Cleveland Sports & International Soccer: To be a tavern in Cleveland, you must love sports, and we do. Locally our heart is with The Browns, The Tribe, The Cavs, The Buckeyes, and our local universities. Internationally, our passion is soccer, primarily Premier League, Champions League, USA National Teams, World Cup, etc.). We always show our local teams, and we feature, at all hours, the best of European & international soccer, to a boisterous, well informed, enthusiastic fan base. No matter what the sport, there is a good chance we'll have it on.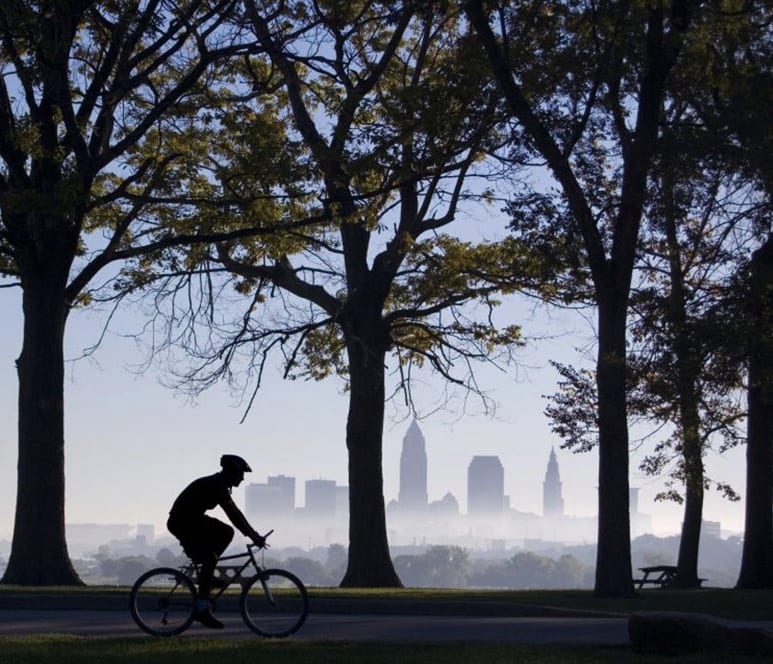 NBC Sports: Top 10 places to watch Premier League in America, The Old Angle Tavern

USA Today: The Angle is the place to be for soccer fans, and has been featuring Premier League matches since it opened in 2004.

Cleveland Plain Dealer: The Ohio City bar has a loyal following for the English professional football league. So much so that NBC Sports considers The Old Angle Tavern one of the best Premier League/Soccer Bars in America.

WKYC Cleveland: If you want to check out THE soccer bar in Cleveland, head to Ohio City's Old Angle Tavern.

Cleveland.com: The Old Angle is the place to watch World Cup Soccer in Cleveland

Cleveland Friday Magazine: Best Bars to watch Browns Games, The Old Angle Tavern

The Game: Ohio State vs Michigan: The Angle's Annual Party is known throughout The Land, and all Buckeye games, throughout the season, are on.

The Indians: The Indians are all summer long, and sometimes well into fall

CBS Cleveland, Best Bars to watch Hockey in Cleveland: The Old Angle Tavern, with dim lighting and a more upscale ambiance, this bar is great for the sports fan looking to enjoy a nice meal and drink.

Cleveland.com: Great Neighborhood Bars To Watch College Sports: Ohio City, The Old Angle Tavern
In Summary:
The Old Angle Tavern is a neighbor bar, in Cleveland's Ohio City Neighborhood, that draws not only from the hood, but from across the land. We never forget where our roots are planted, and support our neighborhood, and our city, financially & civically, whenever possible. Our Uniquely Cleveland, celtic spirit is displayed in our locally sourced fare (Good Food), our premium, reasonably priced spirts (Good Fluid), our down to earth vibe (Good Feel), and our hospitable, smiling outlook (Good Face). Welcome to The Old Angle Tavern, welcome to Ohio City, and welcome to Cleveland!
Social Media:
Google Reviews: The Old Angle Tavern: 4.7 out of 5 stars
Facebook Reviews: The Old Angle Tavern: 4.8 out of 5 stars
Tripadvisor: The Old Angle Tavern: 4.5 out 5 stars
Yelp: The Old Angle Tavern: 4 out of 5 stars
Uber Eats: The Old Angle Tavern: 4.9 out of 5 stars
The Angle Neighborhood In Cleveland
The ANGLE was an Irish ghetto that developed on Cleveland's near west side in the late 1860s. The Angle was generally defined as…